Access to the platform is available to collaborating practitioners, researchers and creative and technical specialists. Find out how to get involved.
You do not need VR equipment to run the software, it runs in 2D on a regular computer screen. If you have a VR headset attached to your computer just unplug it before loading the platform. The following are the available controls in this demo version (which is a scaled down version of the full platform):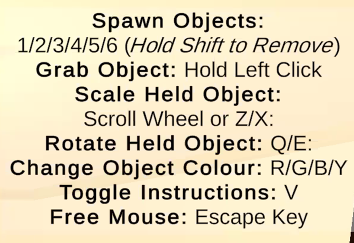 Download
Mixed reality therapy room platform demo (Windows, 147mb)
Mixed reality therapy room platform demo (Mac, 147mb)
Important: This software is a demo version of an unfinished prototype. It is provided without warranty and liability. It is intended to be used initially for concept development and testing purposes and, following successful testing and verification, for clinical use only under the guidance of a suitably trained and licensed mental health professional with experience in its design and function and with suitable safeguards in place. It is available by invitation only, that can be revoked at any time, and should not be shared without written permission.